First off: Messenger. The lovely George C at Spring Harvest has mentioned it in the latest flyer from them, which is very kind and much appreciated. It's mentioned in the same breath as Compassionart which, if you don't know anything about it you really should. You can find out about it here: http://www.compassionart.tv/
((and you can find out more, well, a little but there's more coming soon, about Messenger here: www.kercal.co.uk)).
Actually I was stupidly excited about Compassionart when the flyers came over and it's been duly plugged at the church I go to, until I found out that it was more about the musical arts. Not a problem, it's a good thing to support – cd and book wise, but the photo's were so ace I was sad to see that there weren't more of them or more visual arts involved… The website is beautifully designed and the pictures of people around the heart logo inspiring, moving and thought provoking (which is why I wanted to see more of them, I think…) (in fact they are very reminiscent of the extraordinarily beautiful pictures that Tre Sheperd took while visiting the engageHIVaids.com hospitals in Africa. Those are well worth a search for if you have an hours worth of mooching time on the Internet. I'd post the link but start at the engage website and work your way from there I think 🙂 There is some amazing stuff on that site too…)
Anyhow: Compassionart is something which I hope grows and grows, taking on more artforms and showcasing the heart of more and more people who want to change the world. More photos and art please, but please support them now, so that further projects can happen and so that the projects they are supporting can feel the benefit. As mentioned previously also consider getting it in town, rather than on le web, from either WHSmiths, which I believe was going to stock it but then got caught in the Woolworths troubles, but worth an ask anyhow, or at a Christian bookshop. Yeah it'll be a quid or so more, but it's the difference between free-range and factory farmed innit.
Which SEAMLESSLY brings me to the latest doodle (or at least would have if I hadn't added another paragraph in between the art stuff and here), which will take me out of any consideration for any future of Compassionart projects ( (: ) Asbo Gran. The image tells the story, but omits the fact that I was giggling like mad when I first saw the picture in the circles (a lesson intended to take students away from the crutch of "I don't know what to draw") (because sometime's it's about the drawing, just for the fun of it, like you sing a song because one note springs into your mind or you dance just because you can…) (/rant). Anyhow, image almost derailed lesson, but the guys liked the character and it did take on a life of its own in the class… So added here, just fo' the fun.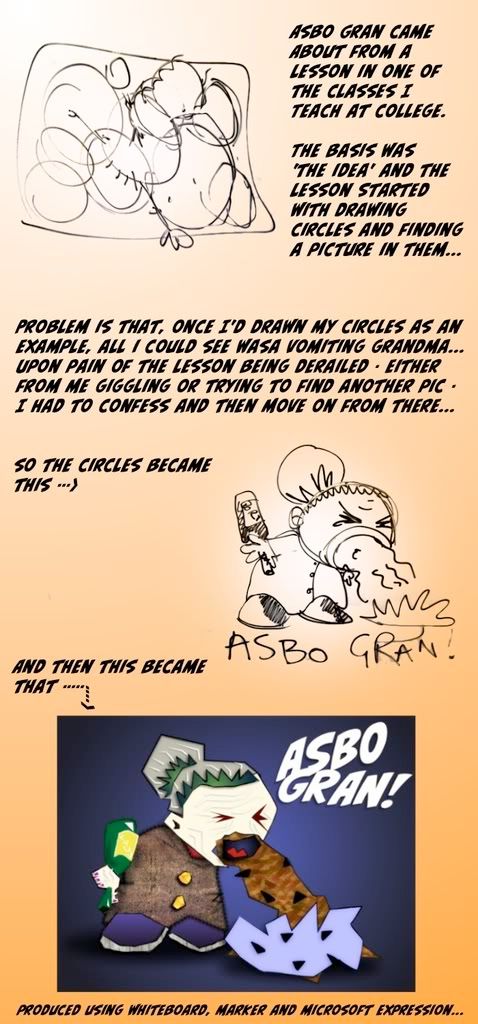 Anything else? Had a down week last week for various reasons… Autism being the main one, sometimes it's not particularly easy trying to head off the issues that come up. But so far this weeks been better so onwards and upwards, hopefully. Tried to send out a couple of quote begging letters, one to someone who I know I've got the tiniest sliver of a chance getting at best but would make me smile to hear what he thought for reasons outside of the book… but, much like when I sent out loads of WYAC letters to people for a quote about youth work to get one reply which was not helpful, sometimes it's a big world and I'm a very small me.
Also went to a flower show, of all things, which had a floral arrangement done with the title Japan, which was allegedly sponsored by me and the book. Not sure that the audience was entirely within the same bracket as the one for the book but hey, was an interesting experience. Photos to come. That said did get lots of ideas for something so who knows… Maybe the next thing would be set in a flower arrangers circle?
Anything else? Um…
Nope. Well, not at mo anyhow.
DOH! I KNEW there was something else. We were VERY pleased and delighted to have Susie Clarke pop into the arts centre to work with the kids and play us out with a song. She's a fabulous singer and has a voice that has to be heard to be believed. Difficult to describe but, in the same way that Alison Moyet has a voice that sends shivers down my spine, Susie has a VOICE. Deep and soulful, her song at the end of last weeks session was an absolute delight. If you've never heard of her check out: www.myspace.com/susieclarke and if you ever get the chance to hear her play live jump at it. Not to diss the recordings of her songs but hearing them sung live is an experience.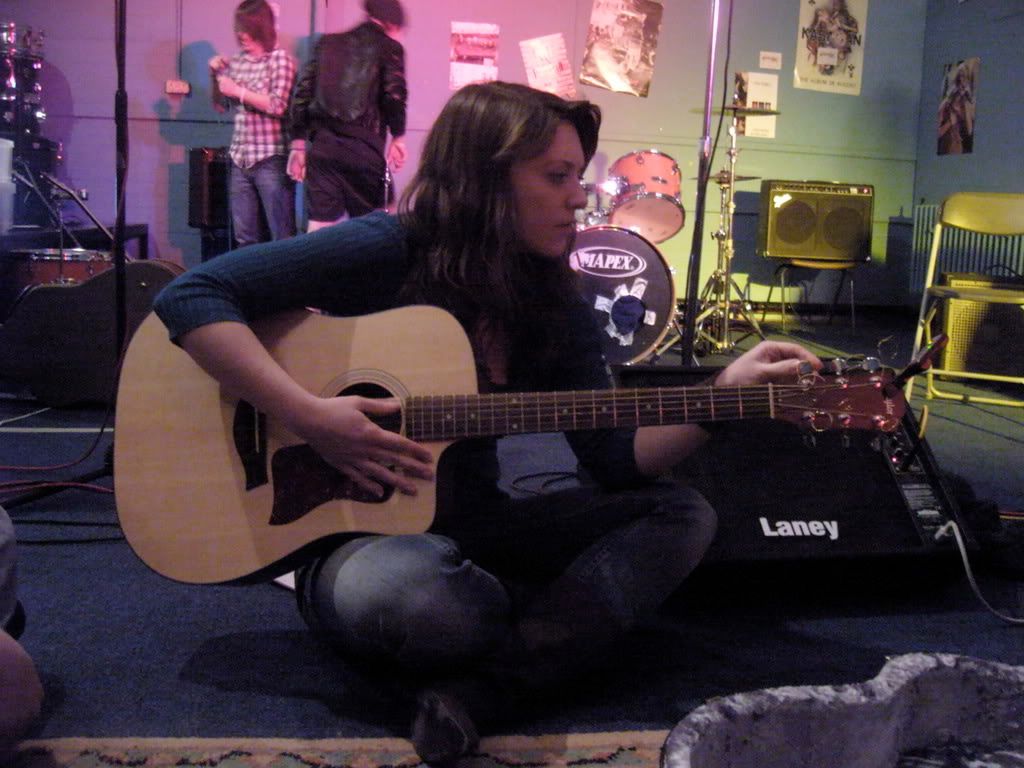 Thanks Susie 🙂