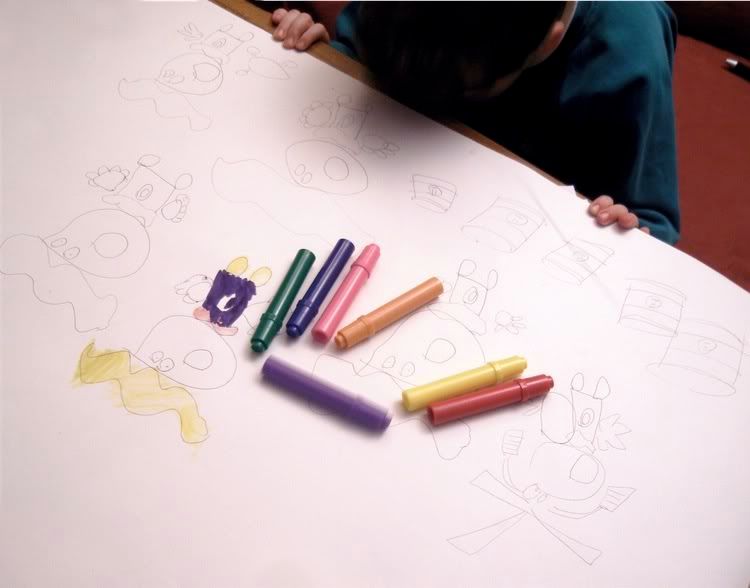 Without wanting to sound maudlin this sort of sums up living/coping with autism. Spent a lovely time with son boy drawing pictures of Rayman (Rayman 3 being a current favourite of his and mine when it first came out) but taking the pictures was a step too far and he ended up banging his head on the table (because that's what Frida does, he told me).
That said seeing him draw was delightful and the pictures make me smile, but it's s strange thing of balance, is trying to work out what to do and say to encourage onwards and not push too far… But maybe it did feel like pigeon steps forward.
Anyhow: Rayman 3… Crossing generations, abilities, all that 🙂 Was a well designed, beautifully presented game. One day a Rayman 4 Ubisoft? Hmmm? How about it? And no, Rabbids don't count, although they are ace too.
Bit of a creative evening all round in fact: son drew, daughter wrote a story (and played the grow games online – and if you haven't played Grow cube, RPG et al then you should, they're loads of fun), wifey created a groovy level on Little Big Planet and I did this and other stuff (primarily updating the www.kercal.co.uk website a little with some more to come once I get the chance to re-encode the video files)… Yay for playing about and having free evenings and all that.
Currently listening to: Monkey soundtrack. Currently playing: Grow Cube. Currently watching: 24, Lost, Gallactica.